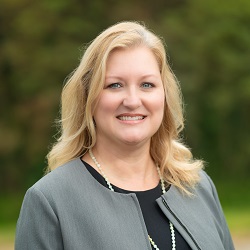 Regional Vice President
April Haynes
What April Does at the Foundation:
As Regional Vice President and part of the Executive Team, April supports the overall program work and operational plan of the Foundation. She works to build relationships with donors, non-profit organizations and professional advisors for the long-term benefit of the Foundation. She also oversees the Foundation's Martinsville office.
When April's not working:
She can be found spending time with her husband, Joe who is a firefighter and medic, and their two children, Luke and Anna. She is a homebody but also an avid reader and loves canvas painting. Shopping with her friends is a favorite pastime.
Year April joined the Foundation: 2006
Guilty music pleasure: Prince
Favorite drink: Coffee