NPO CONNECT: The Effective Leadership Team
April 25, 2019 @ 9:00 am

-

1:00 pm

Free
PRESENTATION SLIDES IDEAS #1  IDEAS #2 
LET'S TALK ABOUT: An effective leadership team, board, and staff are critical to the success of any nonprofit.  During this four-hour workshop, we will explore our individual strengths, weaknesses, and areas for growth, practice dismantling assumptions for stronger partnerships and work to understand group dynamics through hands-on activities. 
Nonprofit staff and board members are welcome.  Space is limited. 
MEET THE TRAINERS:  Rachel del Campo Gatewood and Hollie Adams, River District Consulting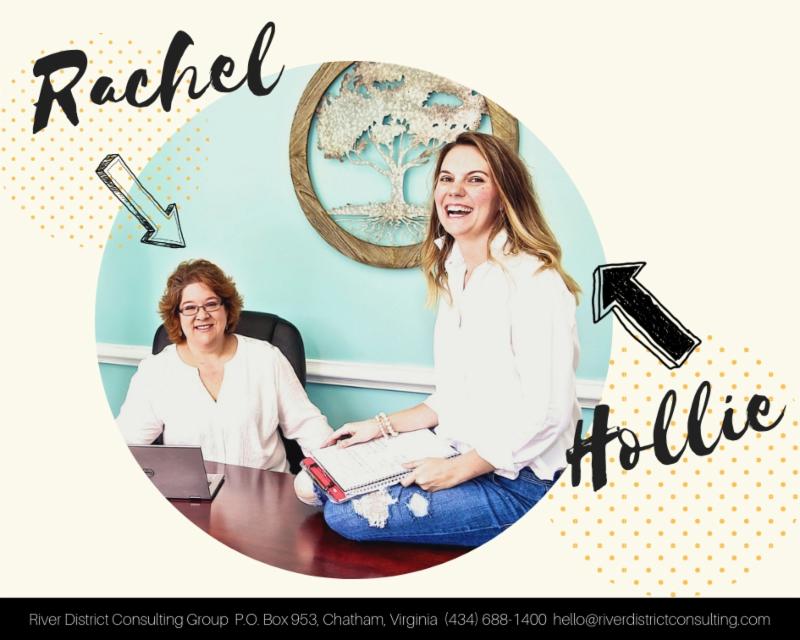 Rachel del Campo Gatewood, rachel@riverdistrictconsulting.com
Gatewood leads River District Consulting from a foundation firmly rooted successful resource development and marketing campaigns and business ownership. With an Accounting degree and an MBA from Averett College (now University), she approaches problems analytically, looking first at the infrastructure of an organization for strategic opportunities.
Her nearly 30 years of experience includes every aspect of campaign management. Gatewood's work involved leading advancement teams at Averett University, Chatham Hall, and the Danville Science Center, and managing comprehensive campaigns of $12-35M. Additionally, she was majority owner in a Chatham, VA, hardware store where she did everything from customer interaction to producing the monthly Profit and Loss Statement. Gatewood excels at drilling down and visioning up with clients, expertise derived from many years of building systems that make ambitious aspirations possible.
Hollie Adams, hollie@riverdistrictconsulting.com
Adams brings extensive training and experience in research and analysis, with more than 10 years of paralegal experience. During her years at Woods Rogers PLC she worked on major economic development deals, multi-million-dollar commercial real estate transactions, corporate governance and employment issues, and immigration cases. She has a paralegal certificate from George Mason University, in addition to coursework at Roanoke College.
Her experience translates into her ability to assist her clients by testing, proving and adapting in a competitive industry. With strength in creativity and marketing mechanics, she assists clients in creating the best foundation from which to launch their dreams.