NPO CONNECT: Marketing Strategies to Stand Out Above the Noise
March 6, 2024 @ 10:00 am

-

12:00 pm

Free
Check back for registration details!
LET'S TALK ABOUT : Marketing Strategies to Stand Out Among the Noise
We live in a highly complex digital world where we are constantly being inundated with information. In our current environment of overstimulation and overload, it's crucial for businesses and organizations to cut through the noise and capture the attention of their target audience effectively. This workshop, "Marketing Strategies to Stand Out Among the Noise," is designed to equip you with the skills and insights needed to create standout marketing campaigns.
During this two-hour workshop, we will discuss the following marketing strategies to help your business or organization stand out:
Your story: How to develop a strong brand story.
Your brand: How to effectively communicate your brand story using guidelines that define your brand, as well as graphics, copywriting, content creation, and the right marketing tools for your business or organization.
Your audience: How to reach target audiences that are right for your business or organization.
Your engagement: Tips for measuring engagement, how and when to refresh marketing materials, frequency of posting, and more.
There will be time for Q&A throughout the workshop and at the end of the presentation.
REGISTRATION FEE: FREE
You do not want to miss this opportunity!  Space is limited, so register today!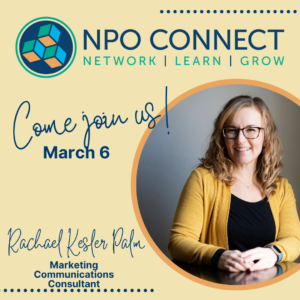 Rachael Kesler Palm has more than 20 years of experience in journalism, marketing, and fundraising communications. She has previously worked in the for-profit sector and has more than 13 years of nonprofit marketing experience. Rachael currently works as an independent marketing communications consultant, providing marketing communications services to nonprofits and small businesses. She specializes in content creation, data-driven marketing strategies, and strategic communications planning.
When she's not working, Rachael teaches yoga and loves to take group fitness classes. She always finds time to bury her nose in a good book and spend time outdoors. Rachael was born in Roanoke, Va., and she spent her childhood in Floyd and Blacksburg, Va. Rachael now lives in Charlottesville, Va., with her partner Carolyn and their young daughter Penelope.