NPO CONNECT: Give Them Another Reason to Stay: How to Build Harmony into Your Team Culture
January 31, 2024 @ 9:30 am

-

11:30 am

Free
LET'S TALK ABOUT :  Give Them Another Reason to Stay: How to Build Harmony into Your Team Culture
Many believe "The Great Resignation" is actually more of a "Great Aspiration". Over the last couple of years, record number of employees have left their previous employers in search of something "better", perhaps more representative of their true or newer beliefs about work and the role it might play within their work-life balance. This session tackles team engagement and retention from the perspective of team harmony. A team in which people can explore different perspectives in a mutually respectful way offers employees a more appealing workspace. Explore ways to help your employees feel a greater sense of connection and belonging within your team. 
REGISTRATION FEE: FREE
You do not want to miss this opportunity!  Space is limited, so register today!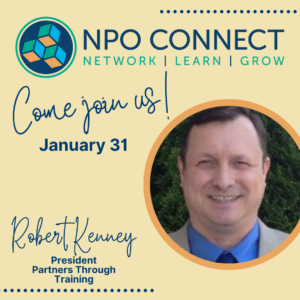 PRESENTER:
Robert Kenney, Ph.D. is President of Partners Through Training, based in Richmond. As a national and international trainer and business consultant since 1993, Bob designs and delivers practical educational opportunities in the areas of leadership, management, and team development. He holds a Ph.D. in social and organizational psychology with a specialization in small group training and organizational analysis from the State University of New York in Buffalo.