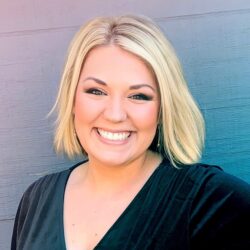 Program Associate
Alyssa W. Rorrer
What Alyssa does at the Foundation:
As Program Associate, Alyssa assists in carrying out an effective grants and scholarship program to the communities we serve. She provides support and assistance with non-profit education and outreach programs as well as special initiatives and events. In addition, Alyssa ensures efficient operation of administrative duties for the Martinsville Regional office.
When Alyssa's not working:
She can be found spending time with her husband, Caleb, and their two daughters. Whether it's cheering on the Atlanta Braves, going to a concert, or piling up pillows and blankets for movie night, she's always ready for a good time with her family by her side. Alyssa believes there is nothing a good podcast and glass of sweet tea can't fix.
Year Alyssa joined the Foundation: 2022 
Favorite Bands: The Happy Fits and The Beach Boys
Favorite Movie/TV Show: The Princess Bride and Twin Peaks
Favorite Books: To Kill a Mockingbird and The Time Traveler's Wife