NPO CONNECT: Building a Board Pipeline
November 16 @ 9:30 am

-

11:30 am

Free
LET'S TALK ABOUT : Building a Board Pipeline
One of the most important responsibilities of a nonprofit board is to ensure qualified new members are added to its membership and those members remain engaged in the work. Board building shouldn't happen when it's time to fill a vacancy; it should be an ongoing process with year-round activities. This workshop guides participants through a process that focuses on the steps needed to build an effective board. Understanding these steps can help boards avoid the common ups and downs of building and maintaining an enthusiastic board.  
REGISTRATION FEE: FREE
You do not want to miss this opportunity!  Space is limited, so register today!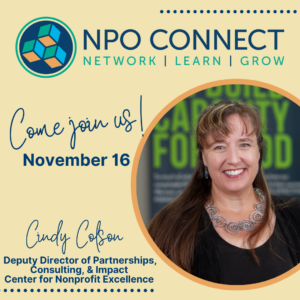 PRESENTER:
Cindy Colson is Deputy Director of Partnerships, Consulting, & Impact. Cindy is responsible for the development and administration of CNE's diverse array of programs and services throughout Central Virginia. She brings over 18 years of nonprofit leadership experience to her executive leadership and board governance training and consulting with nonprofits. She supports nonprofits to implement sound, ethical, and legal governance practices to fulfill CNE's vision of equitable, thriving, and just communities powered by healthy nonprofits. Cindy earned her Bachelor's in Interdisplinary Studies with a concentration in Education from the University of Virginia and a Master's in Business Administration from the University of Mary Washington.